[NEWS ARCHIVE]
[11/14/00 to 12/12/01] [2/6/01 to 4/14/01] [4/23/01 to 11/21/01] [current news]
4/14
Times have been posted for the Overtime Festival III...just click on the link! (Nine Millimeter goes on around 6:00) We are really excited to play with a lot of great bands. It should be a great show so if you are up around that area, come check it out and rock out with us! There is a $3 cover charge at the door, but all funds raised will go directly to the multiple sclerosis society...
Still no pics...I know...soon I promise!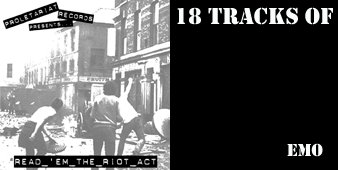 4/11
Still no details on the times for The Overtime Festival III...We'll let you know a.s.a.p....The "Read 'Em the Riot Act" Compilation will be available on April 22nd courtesty of Proletariat Records.
I promise to put up pictures up soon!!!
3/30
Well the show was last night, and it was a rockin' good time!!! Thanks to everybody who showed up and supported us...Look for pictures in the near future! Flashlight put on a great show, and Mustard Plug brought the house down!
3/29
The show is tomorrow...Hope to see ya there!!!!
Also, the date and times have been changed for the OVERTIME FESTIVAL III in Mount Pleasant. The new date is April 22, but times have not yet been announced. The Mount Pleasant Police apparently have a problem with the festival being outside, so the venue has been moved to Rubbles in downtown Mount Pleasant. More details to come.
We have also come across Phil's X-RAYS from the shoulder injury...Look for those to be up soon!
3/11
The date and time for the OVERTIME FESTIVAL III has been posted!
2/23
The web page has been totally revamped...new intro (I hope you all waited and got to see it!), new buttons, and new bios...Also...The merchandise link has finally been finished! Check out our stuff and order it! This will make us very very very happy...
2/20
A new show has been posted. The Overtime Festival III hosted by Proletariat Records straight out of Mount Pleasant, MI. This is a benefit concert for the Multiple Sclerosis Society. All funds raised go to a good cause! The details have not been announced yet, but the date has been set for April 14. There are gonna be a lot of really cool bands there, so don't miss it!
2/18
New Pictures!!!! I promised! Hope ya all like em...and look what we found in our stash of photos...none other than Robert Costie himself!
The band had great practice this weekend...Six new songs have been written, and plans for a third demo have been set for the end of summer 2001! A whole lot of shows are being lined up for this spring and summer...We'll post em as soon as we have confirmation!
2/6
Well what can we say? Its been a while since this has been updated...a lot has gone on! Phil broke his collarbone on December 23rd snowboarding, resulting in emergency surgery the following day. Needless to say, the band couldn't do much with an injured lead singer. He's been recovering well, though. He and the guys have been writing a lot of new music lately, possibly enough to record another demo this summer!
We've been working on a few shows lately...we are scheduled to play with Mustard Plug again in East Lansing at the Common Grounds. It should be an awesome show...if you missed our last one with Mustard Plug at Club Soda, you should definitely check this one out!!
I know I promised more pictures...still working on that...I'm gonna try to put Phil's x-rays up to show all of ya how bad his injury is. New music (well actually, old music) is up and free to download here from our first demo, "Fully Loaded."
You are visitor number